RupertAngier wrote:

SuperMech Tournament

SuperMech is hosting a tournament to see who has the best Mech set ups along with who is the most skilled...

The winner of the tournament will win a 30 day premium account

The Tournament sign ups will last a month

Singular and I will be Moderating the tournament

RULES:
You can sign up by commenting below. When sign ups are over we will be starting the tournament.

This will be a single elimination set up. See the image as an example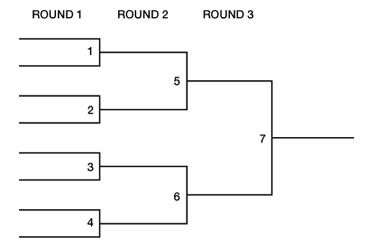 You will battle your opponent best out of 3/5 battles wins, the winner moves on.

To make it semi fair, picked by random I will pick one of the two of you randomly and you will be able to pick what level cap the person chosen wants to put on the Mechs both Mechs will be using, the person not chosen will then choose etc.

Singular or me will need to know when the battles are starting, and are done.

PM Singular or me, both of you the results of the battle. If you have a problem with any of the calls let us know and record the battle to prove your claim.

You will have a week to talk with your opponent to get your battles done.

If you are not on within that week you will forfeit and your opponent will get a bye.

I'll record who has signed up below. (Pm me your Super Mech # if you sign up)

Contenders
1. lilconquer(LC)
2. SideOneDummy(SideOneDummy)
3. captain1821(captain1821)
4. jonesm(jonesm)
5. goldeneyereloaded (cherub13)
6. bigdaddy22 (bigdaddy)
7) Niko1313
8) Aeacus
9) Lorinser21


Edit: Please include your mech names into the signup comments, and we can use them to monitor the matches(or the replays, probably).
TheSingular
paris airports transfers
Update


we'll be using this format I'll fill it out offically soon.. but for the first round
4. jonesm(jonesm)
5. goldeneyereloaded (cherub13)
will be vsing off.. for going first the person that wins this will get to pick the level cap of the next battle if they win this one as a perk... I picked you at random so no hard feelings.. you guys got a week.



Newest version of what happened I'll post the official battle reports soon
Hello, thank you for sharing this with us, you're so cool